The newly appointed Director of Sports at the Ministry of Sports, Haroun Korgi, a former Olympian, last weekend organized a two-day football gala at the Siaka Stevens Stadium. Four teams participated in the gala. They are Rokel Veteran FC, Brookfields United Veteran FC, MOS/NSA FC, and SWASAL FC.
Saturday 5th February 2022 two matches were played. The first match was between Brookfields United Veteran FC and Rokel Veteran FC at 2:30 pm. The kickoff was done by Mr. Korgi (DOS). Brookfields United Veteran FC won the match 1-0.
The second match was played between MOS/NSA and SWASAL at 4:30 pm. The match ended in a stalemate. They went to a penalty shootout but there was no winner. It was then agreed that the match is replayed the following morning.
On Sunday 6th February 2022 at 9 am, the replay between MOS/NSA and SWASAL was played for 30 minutes. It ended goallessly. At the Penalty shootout, MoS/NSA won 5-4, eliminating SWASAL.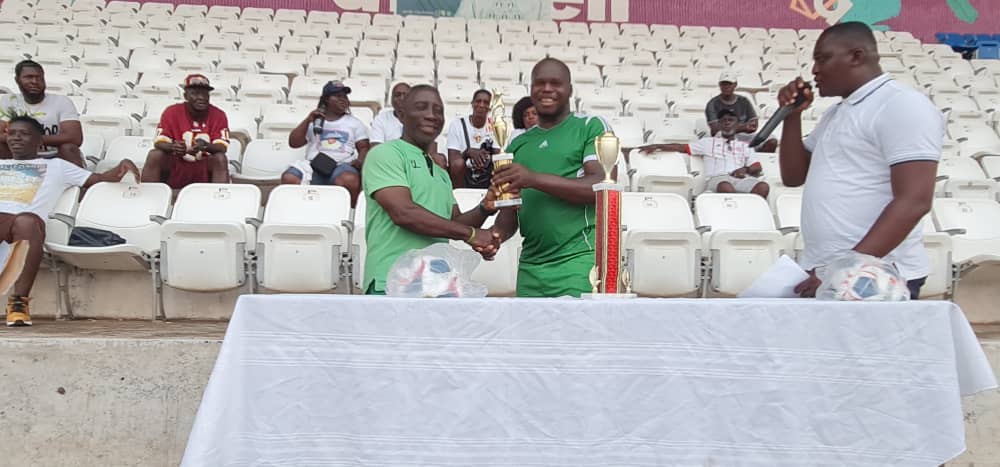 At 4:30 pm the same Sunday, the Grand final between the two winners; Brookfields United Veteran FC and MoS/NSA started with a kick-off by Lisie, Musu Pele Bangura, and the Director of Sports, Haroun Korgie.
At the end of the 90 minutes, Brookfields United Veteran FC won 1-0. All the matches were officiated by officials of the Western Area Football Referees Association (WAFRA).
Brookfields United Veteran FC has been crowned Champions of the first edition of the Director of Sports Trophy for 2022.
The Champions received a trophy, match ball plus cash prize. The Runners-up received a trophy plus match ball. Prizes for best player and best goalkeeper went to the winners.
In a special message from the newly appointed Director of Sports Haroun Korgie, he said the game of football brings the football family together and brings relative peace in the football environment.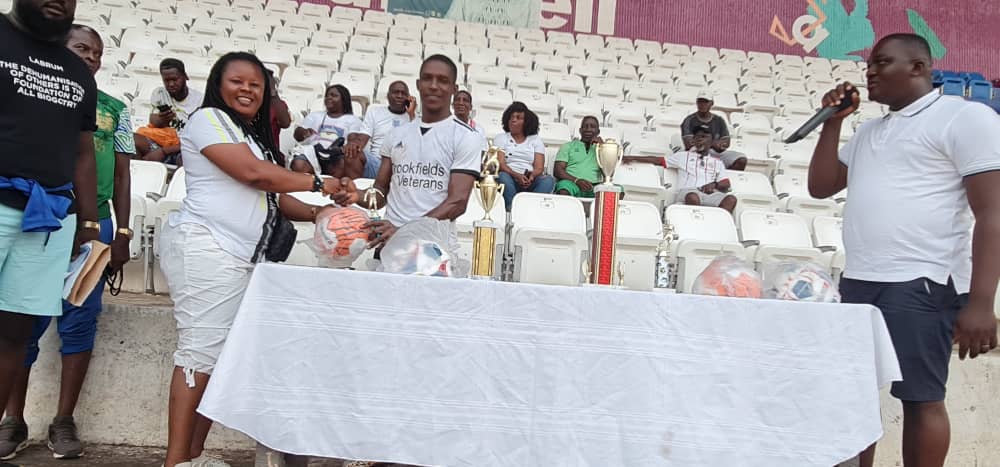 "I am here to bring the sports family together. I want to involve all the sporting associations in my activity so that we can work as one united force. I need everybody on board for the development of sports in the country", he said.
He continued: "As the new DOS, this is my priority. I am also going to introduce the Veteran League for ex-players; we need them on board to develop the game"
"As I end, let me say special thanks to the Minister of Sports, Ibrahim Nyelenkeh and team, Stadium Management, the various Veteran teams, SWASAL, community people, my organizers, etc, for making the two days football gala a success. God bless you all. By God's grace in 2023, we will have the second Edition of Director of Sports Trophy".
From Super Alex Lansana Claye(ALC)Di Pa e yai👁️👁️On Sports.Stayblessed.
(JMB For Life)