Sierra Leone's Chief Justice, His Lordship Justice Desmond Babatunde Edwards has received and congratulated the newly appointed Sierra Leonean ECOWAS Court Judge, Honourable Justice Sengu Mohamed Koroma.
Justice Sengu Koroma and Justice Claudio Monteiro Goncalves from Cape Verde were sworn-in by the Chairman of the Heads of State and Government of the Economic Community of West African States (ECOWAS), His Excellency President Umaro Sissoco Embaló of Guinea Bissau at a ceremony held in Bissau on Thursday, 6th October 2022.
The new Judges will join the President of the ECOWAS Court, Honourable Justice Edward Amoako Asante from Ghana, the Vice President, Justice Gberi-be Ouattara from Cote d'Ivoire and Justice Dupe Atoki from Nigeria, whose terms were recently renewed because of the disqualification of Guinea, Mali and Burkina Faso as Countries of ECOWAS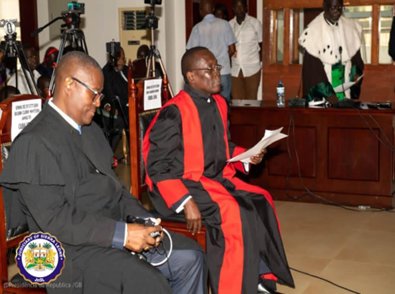 "On behalf of the Judiciary of Sierra Leone especially Justices of the Superior Court of Judicature, I congratulate you, firstly, on your excellent performance at the interview and finally for being elevated to such an enviable position," said Chief Justice Edwards, adding that, "this is no mean feat and I am certain that your expertise will enrich the Court's jurisprudence. Congratulations My Lord."
Justice Sengu Koroma is a Supreme Court Judge of Sierra Leone. He firstly graduated with Bachelor of Arts in English and History in 1985. His thirst to become a lawyer compelled him to gain admission again at the Fourah Bay College, University of Sierra Leone. In 1990 he graduated with BL at the Sierra Leone Law School. His insatiable desire for higher and quality education enrolled him for his Master of Laws with Merit in 2009 from the University of London.
As a Barrister and Solicitor, he was Head, Maanah Chambers. He was the Company Secretary of the National Development Bank and later became acting Director of Administration from 1997 to 1999. In 2002, he gained appointment into NASSIT, and was later promoted to the position of Director, Legal Affairs and the Board Secretary of the National Social Security and Insurance Trust (NASSIT). He is a Lecturer, Department of Law, University of Sierra Leone. He was called to the Bench in April 2015 as a High Court Judge. He is currently the President of the Industrial and Social Security Court.
.