Palais Mohamed V, Conakry, Guinea, 5th December, 2021 A delegation from the Mano River Union led by the Libera's Minister of Foriegn Affairs Dee-Maxwell Saah Kemayah Sr. has concluded a two days Diplomatic meeting with President Mamady Doumbouya and his Government on how to maintain the already fraternal relationship that has existed within the MRU.
The Guinea Foreign Minister, Dr. Morisanda Kouyateh welcomed the delegation on Sunday morning and thanked them for their proactive contribution within the MRU. He said Guinean were suffering and that the current Government has no other determination but to change the current deplorable status of Guineans.
In his presentation, the head of MRU delegation, Mr. Dee-Maxwell Saah Kemayah Sr. said the MRU was not doing Guinean favour but rather performing its obligation as Guinea is a member of the Union. He conveyed greetings from the 3 Presidents of Sierra Leone, Côte d'Ivoire and Liberia. He succinctly explained the outcome of the November 22nd -23rd MRU Diplomatic, Peace, Security and Democracy Conference held in Margibi County of Liberia this year and the Communique that was signed which lead to the visit to Guinea. He said the MRU Countries have helped each other whenever there has been crisis such as, War, natural disaster and security issues.
That fraternal bond he said was what the MRU is replicating in supporting Guinea to have a peaceful and timely transition. He assures Guineans of their security within the MRU Neighbouring Countries.
The President of the Republic of Guinea, Col. Mamady Doumbouya thanked the delegation and commended the Secretary General Amb. Medina A. Wesseh and the Presidents of the MRU Countries, Specifically, His Excellency Rtd. Brig. Julius Maada Bio for being the First head of State within the MRU to visit and sympathized with the people of Guinea.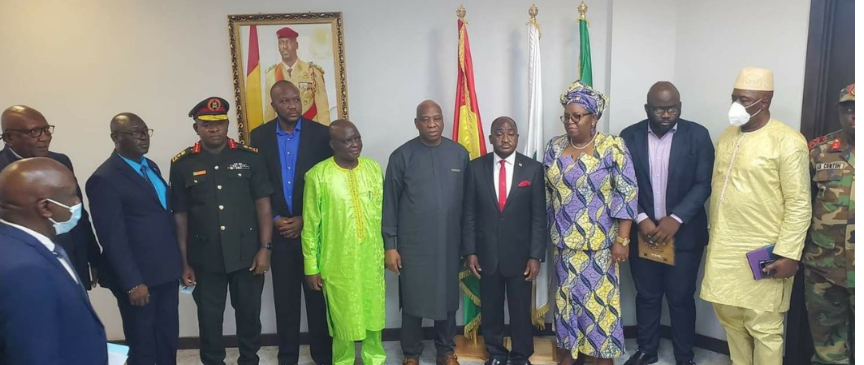 President Doumbouya said they were willing to effect a transition but that, they need to correct issues around corruption and indiscipline in the Country.
"We are only here to change the condition in Guinea, I have constituted the National transition Committee, All political prisoners have been free, I have set up a Commission of Inquiry to look into how our resources were used and how government assets have been managed since 1954. I have instructed my men to return to their military barracks. Hence all these are achieved then we are sure of a good Guinea with clean political leadership. We don't want to do a new election and give power to new thieves" He stated.
He thanked the Delegation for the visit and assured them of his fullest support to promoting peace in the region. He also discussed security issues with the Sierra Leone's Minister of Defense, Brig. Kellie Conteh.
For more Information..
Membui Emmanuel
Director, Stratcom. MoFAIC.